A website is like an iceberg, what you see is the design.
What you don't see is all the work behind the design.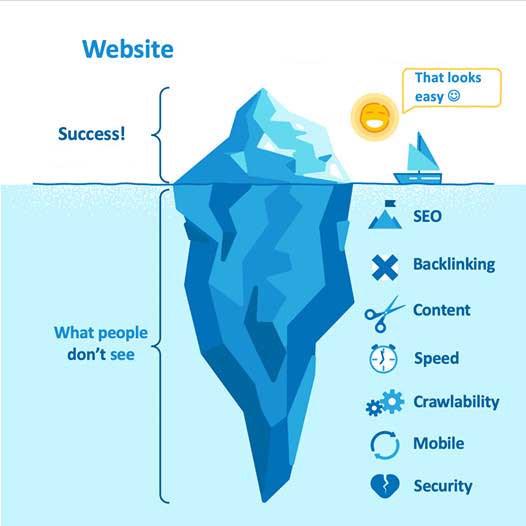 Professional Website Design and Developer Services
Everything you need to know

FREE ADDONS
FREE Emails
FREE Updates
FREE Registration
FREE Basic Themes
FREE Basic plugins
FREE Advice from the experts
FREE Hosting with Site Design (CSTM design only –range from 1 -5 months)

Safety and Security
FREE SSL,
FREE  Brute Force protection
FREE  Email Spam protection
FREE Anti-Virus protection
FREE Updates
FREE Website firewall
FREE Website Security
FREE  Malware protection

Hosting at its best
 99.99% uptime.

BBB A+ Ranking
C–net rated
High-Speed SSD hard drives

24/7/365 Customer Support

Private Hosting
PCI Compliance

U.S. Based Customer Service Team

What your Website should have!
Stat of the Art

Hosting
Programing

Clearly Defines Your Company
A simple, sensible Web address
Navigation that is easy to follow
Easy-to-find contact information.
Customer testimonials
An obvious call to action
Fresh, Original & Quality Content
A secure hosting platform
A design and style that's friendly
Get Customer's Reviews
Responsiveness
Basic SEO
Analytics
FAQ

Website We Offer
eCommerce
Memberships
Sports
Magazine
Blog
Landing Page
Video Streaming
Portfolio
Social Media
Non-Profit
For-Profit
Personal
Business
and much more…

Designer & Developer
We pride ourselves on being current with the newest trends and programming available.  We thoroughly test all codes/software before using on your website.

Responsive
Looks great on all devices.  We thoroughly test the majority of devices on the market to ensure your website looks as it should on that device

Our Team
Our team works tirelessly with you to ensure the website is what you envisioned.  We have over 37 years of experience.  We are a USA based company.

Communications
Once your website is completed and you need additions or changes you will talk directly with the person that designed your website.
Award Winning Support
Uptime 99.99% of the time
BBB A+ Rating
Cnet Ranked
24/7/365 Support
US Based Customer Service Team
New Pricing Is Here
We have two pricing concepts to pick from
1) EZin – Low initial cost, higher maintenance cost
2) Custom – Higher initial cost, lower maintenance cost

Providing You Reliable Uploads, Downloads, & Backups

We Give You the Stats You Need to Optimize User Experience

We Make Security & Privacy One of Our Top Priorities
What WE Do
What you should expect from us




F.A.Q.
Frequently Asked Questions
How long does it take to build a website?
Depends on the complexity of the website.  A 3-page website with web-ready content and image, 2 to 3 weeks. An eCommerce could take months.
What is the cost for a website?
It depends on size and complexity and the plan you choose to go with it.
Have a question,
click  "Get Started"